June 12, 2019
Patio Cover Options (Our Top 4 Favorites)
When the weather warms up, it's time think about patio cover options.
While it may be the start of wedding season for most, at Window Works all we can think about is awning season! When the weather gets warm that means the sun gets hot hot hot! Is your home or business ready to shade your family and friends? If not, you've come to the right place.
We are breaking down the top 4 patio covers: retractable awnings, pergola awnings, freestanding awnings and canopies, and the Holy Grail of patio cover: the Gennius collection of awnings and canopies.
Retractable Awnings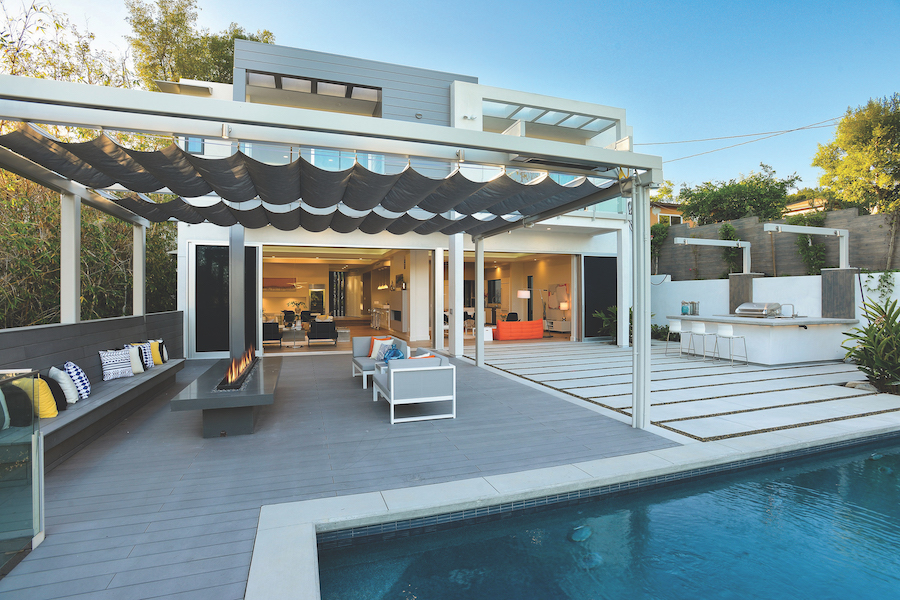 Cover your patio with a retractable awning this summer if you want timed sun exposure. This might mean that you want to enjoy the sun during your morning coffee, but take a break from it at lunch. With a retractable awning, just a click of a button transforms your patio—from full sun exposure to partial to total patio coverage.
We carry several styles and models to choose from, from lateral arm awnings to tension systems to skylight shades to slide wire canopies. Most can be automated or manually operated.
The retractable awning offers the most fabric and arm choices, so you can customize this awning to perfectly complement or add style to your home or business. And don't worry—once the weather cools off again, this patio cover retracts in place to avoid the fall and winter wind, snow, and rain.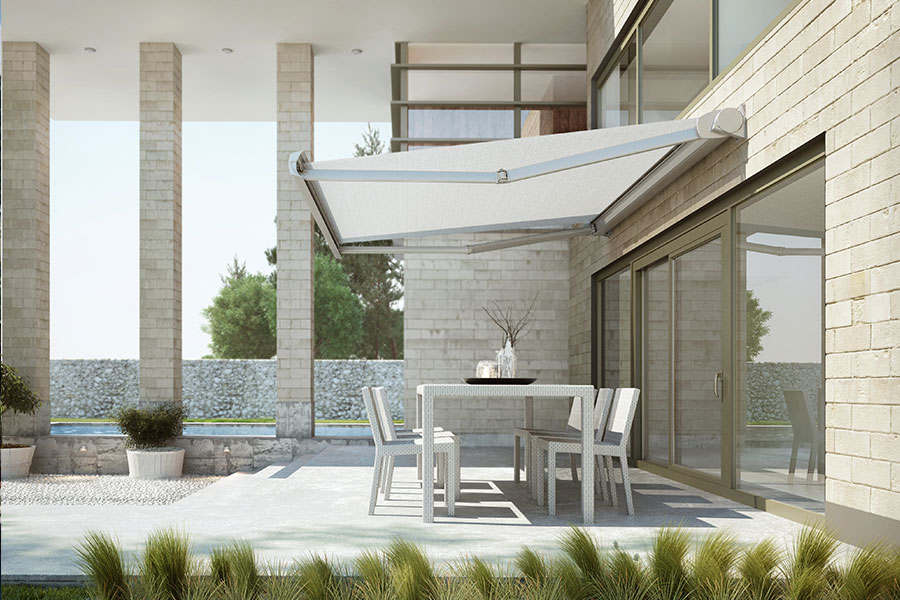 Pergola Awnings
Do you need a particularly large patio cover? Or perhaps your house is up on a mountain or overlooking the ocean, exposed to heavy winds. You may want to consider covering your patio with a pergola awning. Pergola awnings are the perfect patio cover for stability in mounting but flexibility in sun exposure.
The pergola awning is significantly more resistant to wind than a lateral arm retractable awning and you can add full day sun protection with front drop shades. There is also the option of putting multiple awnings together for wider coverage.
Outdoor pergola structures are beautiful structures. If you already have one, you have the option to cover it in fabric.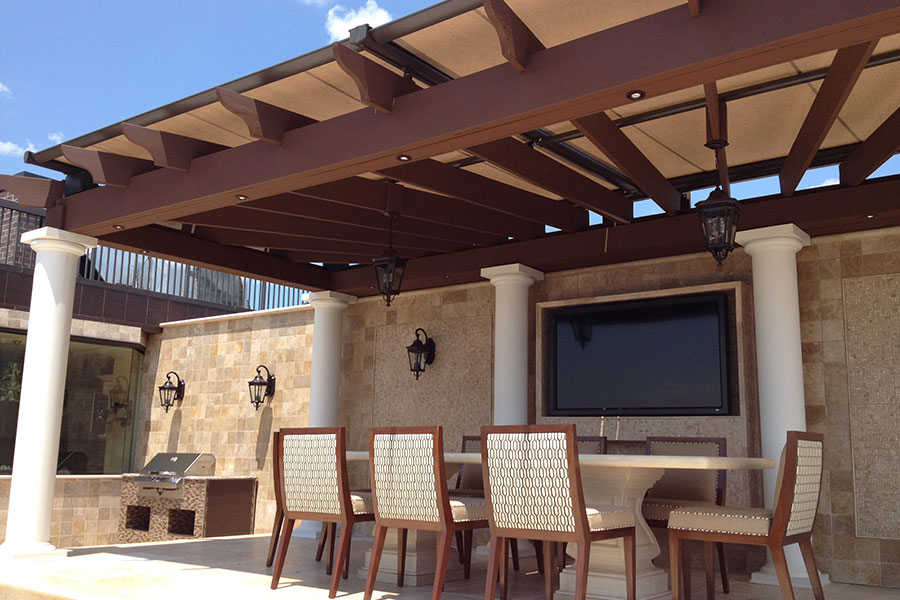 Freestanding Awnings & Canopies
Homeowners, did you build a fabulous patio area near your grill or surrounding your pool—leaving you with no wall or roof to mount a patio cover to?
Business owners, does your outdoor seating area span a larger amount of space than a mounted awning can cover? Or maybe your seating area is detached from your establishment.
The top reason to use a freestanding awning or canopy as a patio cover is if the patio you are covering does not have a wall or roof to mount to.
Think about using a motorized canopy, shade sails, or a louvered roof to provide shade over spaces that would otherwise be left completely exposed to sun, heat, or even rain and wind!
The Gennius Collection
Gennius is a brand of patio covers that offers a wide variety of options. In fact, the Gennius encompasses elements of the patio cover types we've already discussed but with additional benefits, protections, and options!
For instance, a Gennius patio cover can be motorized, will retract, can be pergola-style, or freestanding. The Gennius retractable pergola awning stands up to heavy winds, rain and harmful UV rays.
It is equipped with a heavy duty frame, has the option for integrated gutters and rain management technology, and is capable of spanning massive projections and widths with one motor!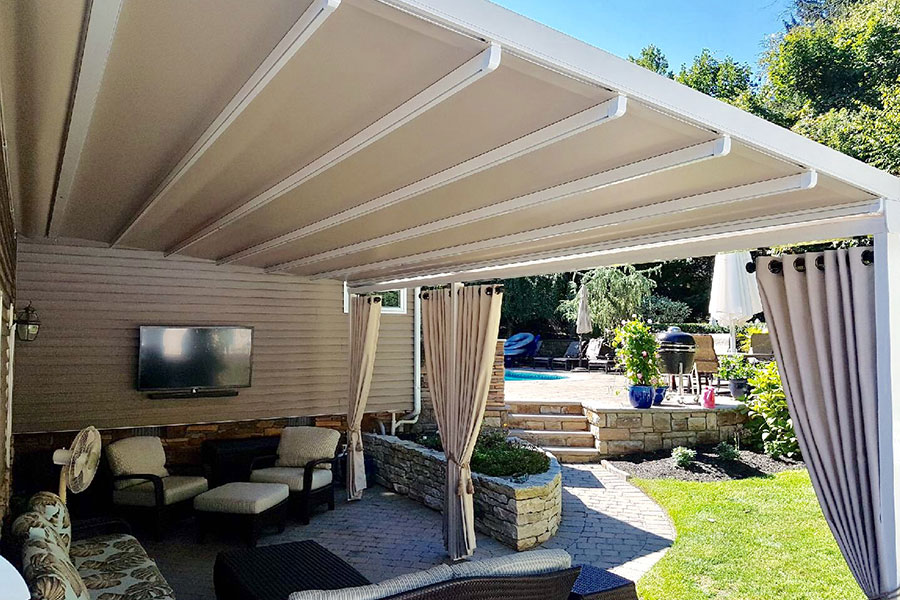 The Gennius freestanding awnings are available in single or double extension. The single freestanding cover uses a shed style slope and can protect up to 950 square feet of dining or entertainment space.
The double freestanding patio cover uses a-frame configuration and can protect over 2,000 square feet of dining and entertainment space. You also have the option to add drop shades and create a freestanding retractable enclosure. Imagine extending the use of your outdoor space to all four seasons!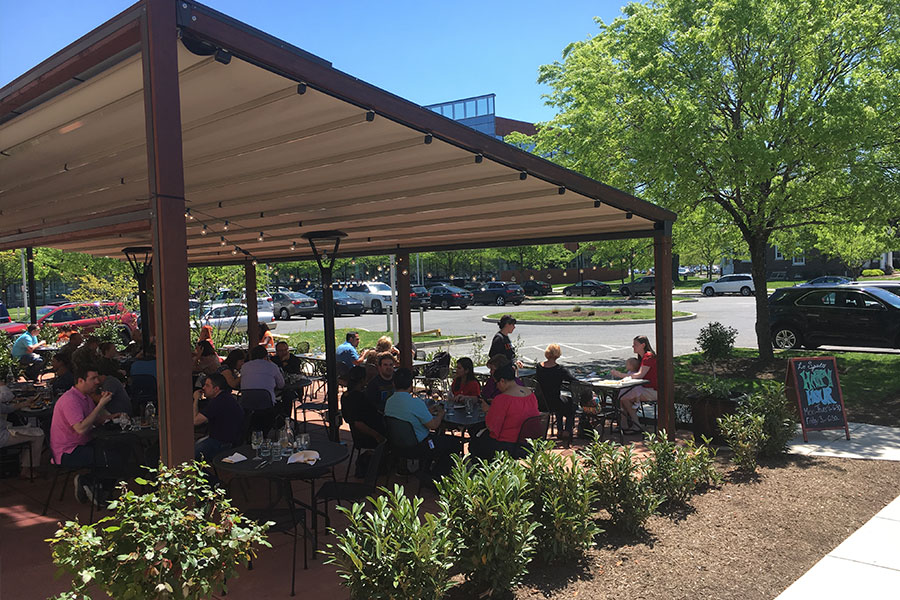 The Gennius collection of patio covers also gives you the option to add zip screens, curtains with clear windows or mesh, to enclose the space and integrate lighting and audio. The Gennius collection is the ultimate patio cover for your home or business.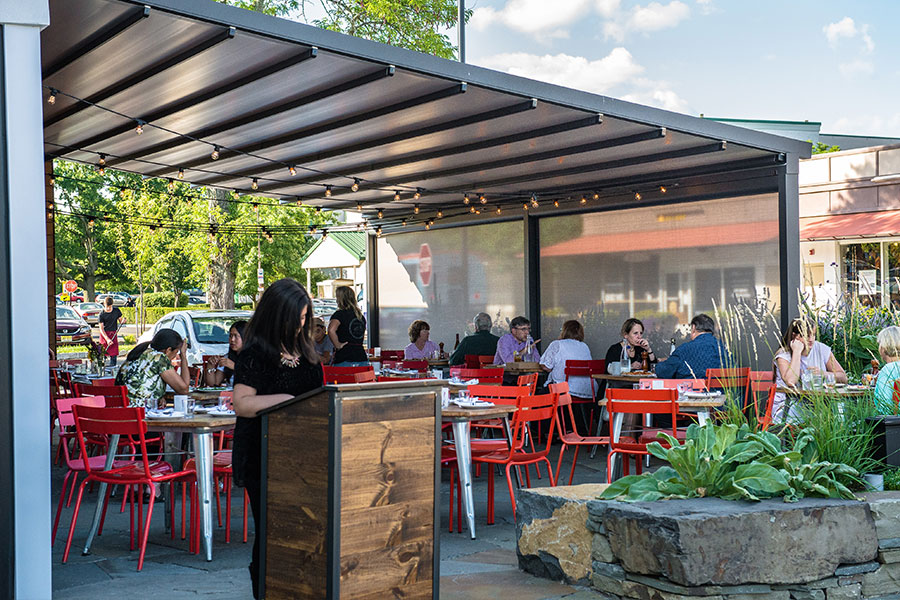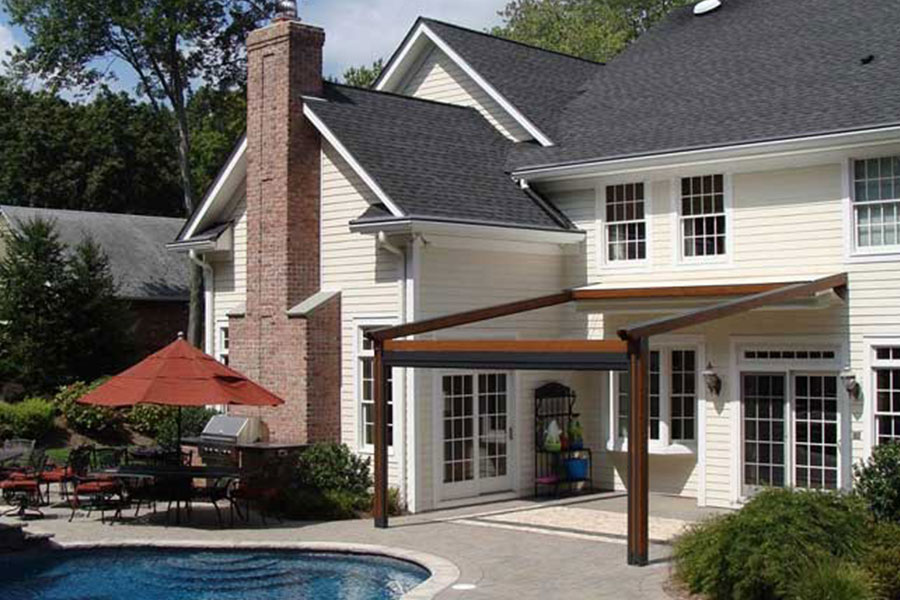 Patio cover options range from resolving the simplest problem of sun protection all the way up to year-round protection from all weather elements.
What type of patio cover best suits your needs? If you're not sure or if you're ready to get your summer started with the perfect awning, call us at (800)505-5860 today to schedule your free shop at home appointment.
Our awning specialists are ready to make this your best summer yet!