August 21, 2019
3 Ways An Awning Will Attract More Social Media Users to Your Restaurant
Restaurant Awnings: Give Your Business the Upper Hand
Social media is the way of the world and the restaurant business is no different. Today we see social media accounts dedicated strictly to photos of amazing food. We see travelers hooked on finding the perfect rooftop bar for an "Instagram-worthy photo," and we see men and women of all ages deciding on where to eat based on what they see of your restaurant on social media.
What Are Social Media Users Looking For?
Imagine, for example, a group of women taking a girls trip, wanting to make sure they hit the best spots in town but also wanting quality food and service. There's no doubt you have excellent food, drinks, and service, but what about your ambiance?
Will these women come across your Instagram feed and see the perfect setting for their Instagram post? We're talking luxury, high-end decor, seating, and of course, an awning!
I bet you're wondering how an awning might attract a group of women on a girl's trip to your restaurant. When you see what we have in mind you'll have no doubt about it.
"This Place Looks Good, Let's Try It!"
When browsing your social media accounts people are deciding whether or not to join you for breakfast, lunch, or dinner based on what they see.
So what are they looking at?
They're looking at your food and drinks, of course, but they are also picturing themselves in that environment. Give social media surfers a fabulous awning to sit under and their minds will be made up!
How an Awning at Your Restaurant Will Attract More Social Media Users
1. Awnings Provide Instant Brand Recognition and Advertising
A restaurant awning is a simple yet extremely powerful way to set your business apart from the others on social media. Using your branded colors, fonts, and logos, we can create the perfect introduction to your restaurant right above your front door or windows.
Your future diners will need to take a group photo under your awning and blast it all over their own social media accounts—a.k.a. free advertising for you. Might we even suggest creating a custom hashtag to accompany the branded photos on social media? Have fun with it!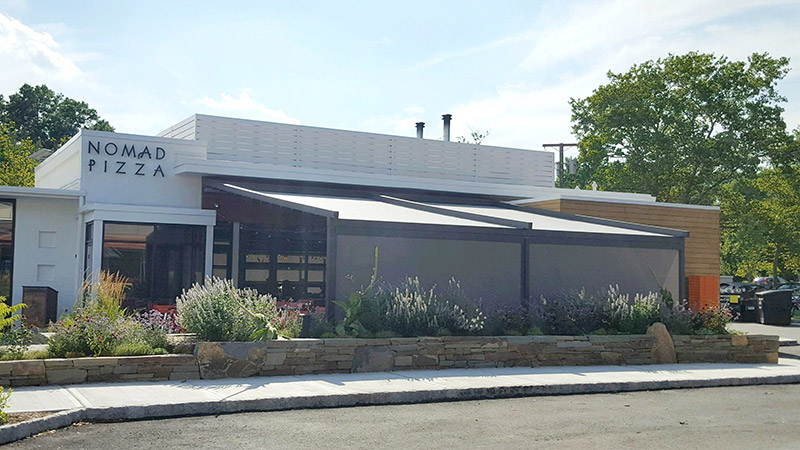 2. Eliminate Weather Uncertainty with an Awning
Let's go back to the group of women for a moment. They can do all of the social media surfing they please but the fact remains—in traveling they are taking a risk that the weather will cooperate.
Ideally, they'd love the perfect outdoor spot, but what happens if it rains or is colder than expected? Will they go somewhere else? Will they be stuck inside? Show them that no matter the weather, your ambiance remains the same!
The systems you see in the above photos can be retracted on the perfect weather day to let the sunshine in and the breeze blow in their hair or they can be extended to protect their vacation tans and happy hour cocktails! Make your restaurant a guaranteed win for travelers making reservations weeks in advance because they can dine with you no matter the conditions.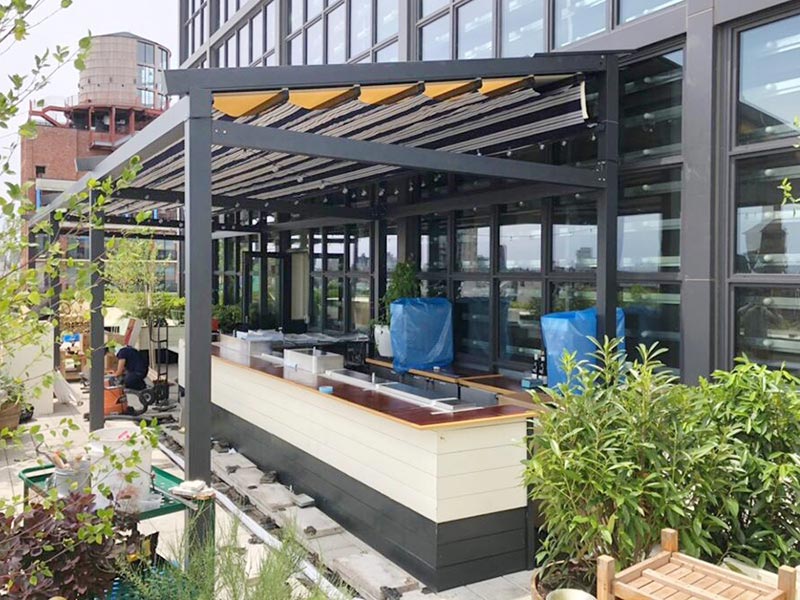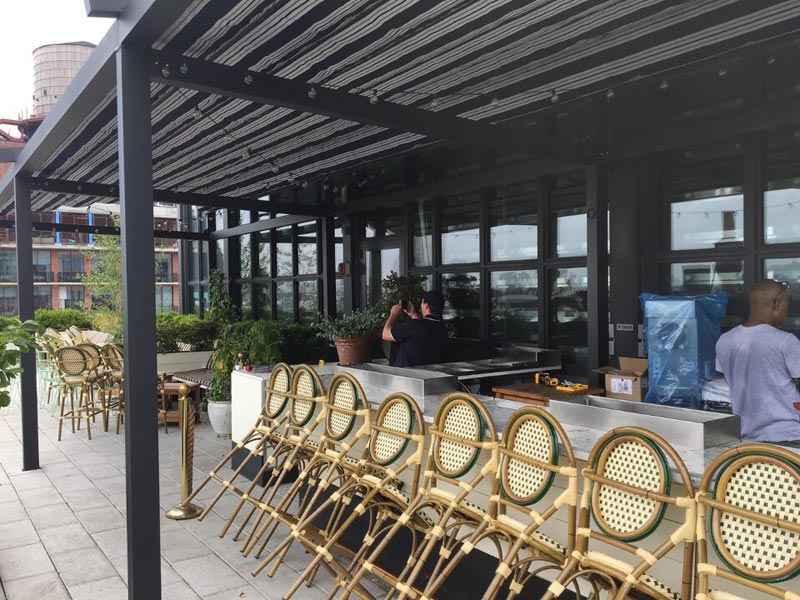 3. Restaurant Awnings Can Ooze Luxury All Day Every Day
The idea of luxury can be applied to your restaurant whether you are serving $50 filet mignons, $20 avocado toast, or a $5 bucket of wings! Remember, your clients are coming to you because they like what they've seen on social media, which includes your ambiance and your menu.
If given the choice between a $5 bucket of wings at a restaurant that looks like it serves a $5 bucket of wings or a restaurant that serves a $5 bucket of wings but looks like it serves a $50 filet mignon…where do you think that group of women or anyone really is going to choose?! Option B, right?
The same applies to the other examples too—why get a $50 steak in a restaurant that doesn't feel like a $50 steak environment? That's part of the experience, right? A high-quality, durable, loaded with bells and whistles awning that your clients can enjoy a meal under and take a fabulous "Instagram-worthy photo" beside will win every time.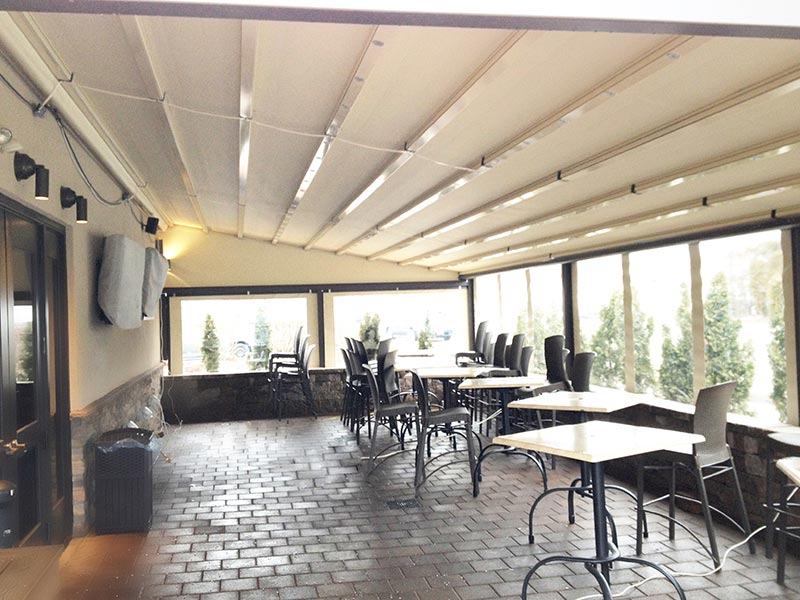 It comes down to this: A custom awning can attract more social media users to your restaurant. There are many custom features we can offer—from branded materials, custom shapes and sizes, units equipped to handle ceiling fans and heating systems to retraction and drop shape capabilities right from your smartphone (yes, you can control the awning away from the restaurant), and so much more!
Restaurant awnings can provide an amazing return on investment. The possibilities for you, the savvy restaurateur, when it comes to outdoor weather management and style are endless! Call us today at (800) 505-5860 to schedule a free on-site consultation with one of our awning specialists!