May 15, 2023
Retractable Awnings & Skin Cancer Prevention
As May shines its spotlight on Sun Cancer Awareness Month, it's a great time to consider the importance of protecting ourselves and our loved ones from the damaging effects of the sun's ultraviolet (UV) rays.
While sunscreen and hats are commonly recommended to minimize sun exposure, another effective solution exists: retractable awnings with Sunbrella fabric. These durable and innovative fabrics can provide you and your guests with a variety of benefits, from skin cancer protection to outdoor comfort.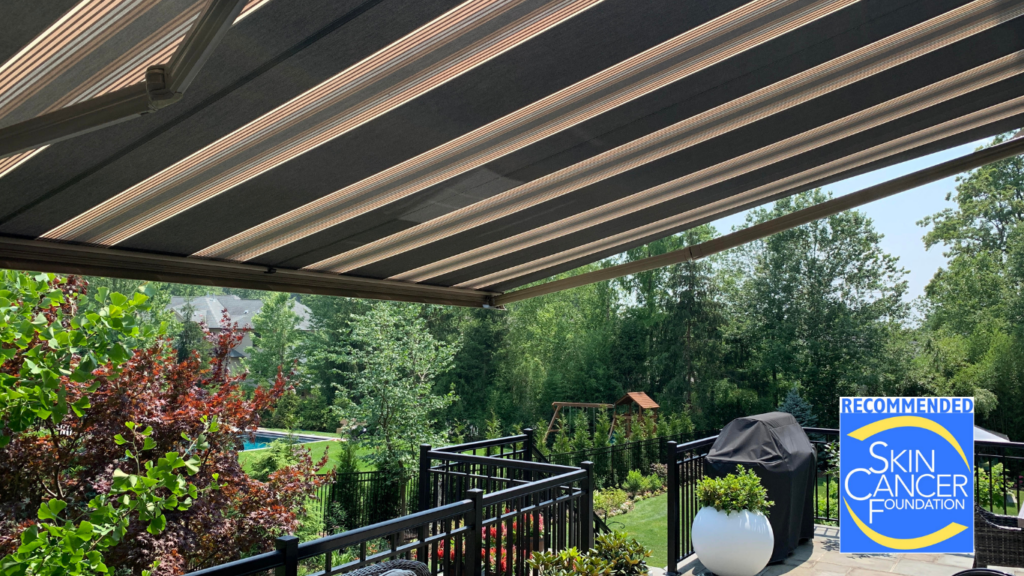 UV Protection: Recommended by the Skin Cancer Foundation
Retractable awnings with Sunbrella fabric offer safe and effective protection against harmful UV rays, reducing the risk of skin cancer for homeowners and their guests. Sunbrella fabric is specially designed to block up to 98% of UV radiation, and is one of the few outdoor fabrics to earn the Seal of Recommendation from the Skin Cancer Foundation.
By installing a retractable awning, you can create a shaded oasis on your patio or deck, allowing you to enjoy the outdoors without putting yourself at risk. This protection is especially crucial during peak sun hours when UV rays are most intense, typically between 10 a.m. and 4 p.m.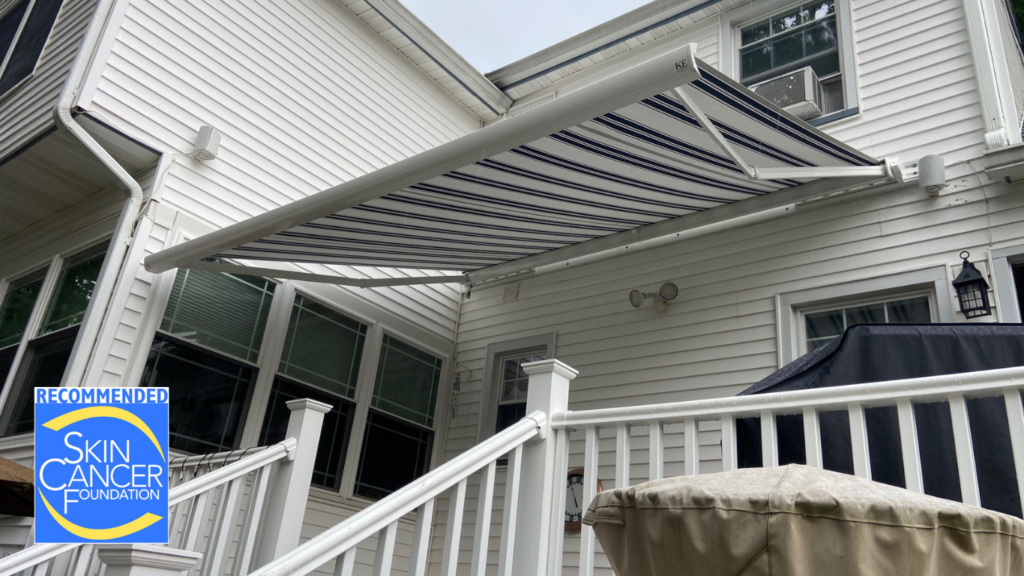 Preventing Sunburns and Premature Aging
Retractable awnings offer an effective barrier against sunburns and premature aging caused by prolonged sun exposure. Sunburns not only cause discomfort and pain, but are also a significant risk factor for developing skin cancer. By seeking comfort and refuge under a retractable awning with Sunbrella fabric, you can enjoy outdoor activities without worrying about harmful sunburns or the consequences of premature aging, such as wrinkles, age spots, and sagging skin. The durability and resistance of Sunbrella fabric to fading and deterioration make it an ideal choice for long-lasting sun protection.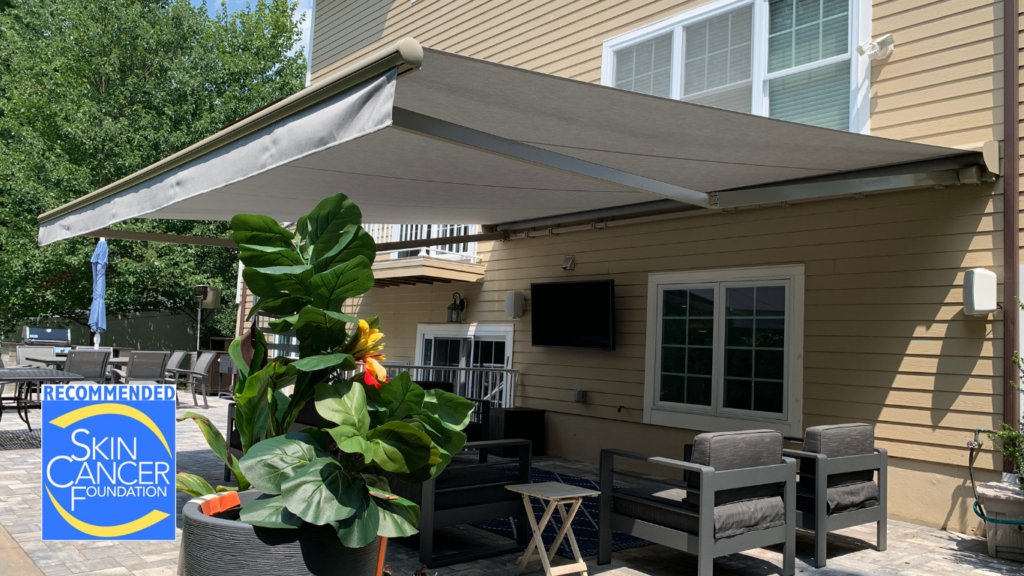 Customizable Shade and Comfort
Retractable awnings provide homeowners with the advantage of customizable shade, allowing them to adapt their outdoor living areas to their needs and preferences. Motorized retractable awnings allow you to extend or retract the awning to control the amount of shade you desire, with a simple push of a button. This flexibility enables you to find the perfect balance between sun and shade, creating a comfortable environment for you and your guests. By reducing direct exposure to the sun's rays, you can enjoy outdoor activities, entertain guests, or relax in your outdoor space with peace of mind, knowing that you are safeguarding your skin from potential harm.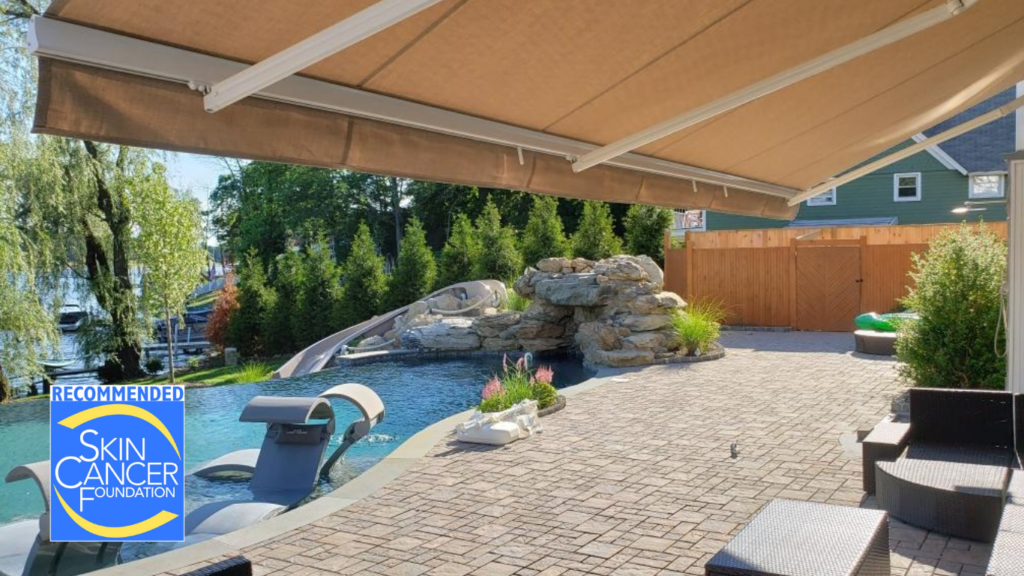 Retractable Awnings and Skin Cancer Prevention
Sun Cancer Awareness Month is a great reminder of the critical role sun protection plays in preventing skin cancer. Skin cancer is one of the most common types of cancer, affecting millions of people worldwide. We encourage you to take proactive steps in shielding yourself from harmful UV rays. Installing a retractable awning with Sunbrella fabric provides a safe and healthy way to enjoy your outdoor living space for yourself, your family, and your guests.
Save $700 on Your Motorized Awning
Protecting your skin from skin cancer just got even better: Save $700 on your motorized awning purchase – plus get a free wind sensor!
Window Works offers professional installation and only the highest-quality retractable awnings and Sunbrella products. Contact us today to schedule your free consultation and let's create a safe haven in your backyard oasis!