June 7, 2023
How to Create a Backyard Oasis
On a scale of "meh" to "I need it now", how badly do you need an outdoor living upgrade? Summer is coming in hot in the Northeast, and you may be longing to spend time outside…if only it weren't for the bugs, sun glare, and heat. So, your patio sits empty, and you're worried about that new deck you just invested in is going to hold up.
What you need, is a shade solution. But not just any shade solution – you need the perfect product to suit your outdoor living area's location and your needs. This is how to create a backyard oasis that you'll love to come home to!
Outdoor Solar Shades
Tired of moving your chair to follow the shade cast by a post or column? Going inside when the weather turns against you? Does your patio or porch face west, making it impossible to relax outside in the evening? Create a retractable "porch enclosure" with outdoor solar shades.
Our Exterior Solar Shade Systems help to reduce your energy bills and give you control of your home's natural lighting and privacy. They also decrease interior fading from damaging UV rays.
An exterior solar shade can keep out insects and inclement weather. There are various models, motorization, automation, and hardware choices, customized to suit your unique goals.
Louvered Roofs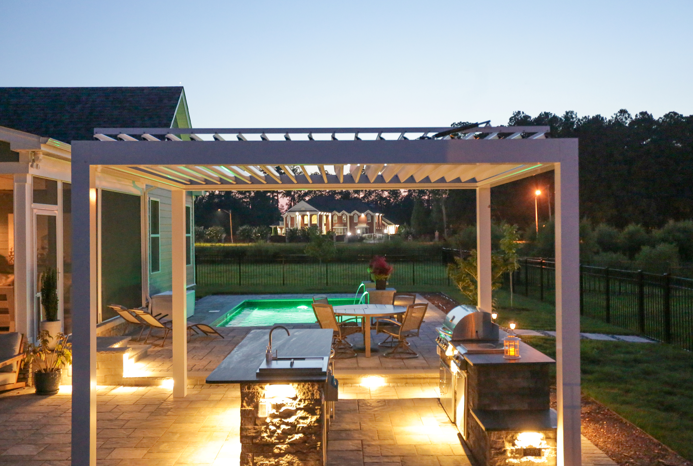 For the ultimate in control and flexibility, louvered roofs are an excellent choice. These innovative structures allow you to adjust the angle of the roof panels, providing varying degrees of shade and ventilation. You can let in the sunlight during cooler days or create shade during the hottest hours. Louvered roofs seamlessly integrate with your outdoor space, offering a modern and sophisticated look.
Retractable Awnings
Control your outdoor experience with a retractable awning! Is the sun getting too hot over your lounge chair? Simply block it out with the push of a button. Concerned about an oncoming wind and thunderstorm? Simply turn a crank and your awning retracts. Retractable awnings come in a wide range of options, and full-cassette options can be color matched to complement your home's decor and style.
It's Gennius: Pergola Awnings
Create a four-seasons room without the expense, permits, and time it takes to build a home addition! A Gennius retractable roof is a pergola, awning, and retractable roof all in one. Waterproof and able to withstand heavy winds, the Gennius is the clear choice for creating a backyard oasis. Available with features including LED lighting, side panels, and heaters, you truly can enjoy your outdoor living space year-round with a Gennius retractable roof system.
This is How to Create a Backyard Oasis
Summer is too short to not enjoy every minute you can outside. Window Works Awning Specialists can help you choose the perfect outdoor shade product to create your backyard oasis, no matter what challenges you have. Contact us to schedule your free consultation!