October 28, 2019
Increase Your Restaurant's Bottom Line with a Gennius Retractable Awning
Every restaurateur knows that, in order to make money, a lot of elements need to be in place.
You need to sell more than you spend, offer delicious food, and provide high-quality customer service to keep your customers happy and coming back for more. We know you've got those basics covered, but in today's world, covering the basics might not be enough.
The restaurant industry is competitive and you may find yourself needing to do more to set yourself apart and make more money. What you might not know is that adding a Gennius retractable awning to your restaurant will increase your bottom line in ways you might not have thought!
So, first of all, what is a Gennius retractable awning?
Simply put, it is a heavy-duty pergola style retractable awning…but there is nothing simple about it! It's that little known grey area between a retractable awning and a stationary canopy which incorporates the best features of both. You get the flexibility of alfresco dining with the stability of a fixed overhead canopy.
The Gennius line of awnings are engineered with a special 7-layer aluminum panel you will neither hear nor see that protects the fabric when retracted. The fabric is waterproof, fire-retardant, and protects from harmful UV light and heat.
When your restaurant, bar or hotel has a Gennius, your venue immediately has an ambiance factor that most of your competitors won't have.
While there are variations on style, Gennius retractable awnings will all stand up to heavy winds, utilize an integrated rainwater management system, provide options for manual or motorized operation (even remotely from your smartphone), and provide options for motorized or manually operated solar shades to act as "retractable walls" and enclose the space. These shades can utilize different fabric and hardware styles to suit your goals.
Some of the more popular options on these patio shades are: zip screens designed to help keep out bugs, wind and inclement weather, waterproof clear window panels for maximum view, and mesh shade fabrics to help block the sun and cool the space.
You also have the ability to integrate lighting, audio, and heating/cooling systems. Seriously, these awnings do it all! By simply defining what a Gennius retractable awning is, you can probably already see how it will increase your bottom line but we can't wait to explain how!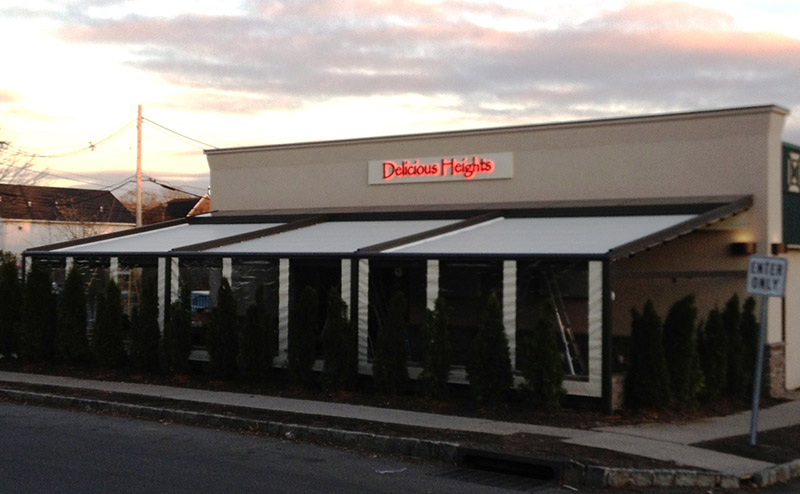 1. Recognition and Memorability of a Gennius Retractable Awning
It's certainly not a great secret that people LOVE to dine alfresco. The Gennius retractable awning will set your restaurant apart from the others, especially to passerby traffic. Come Saturday night, the commuter who drives by frequently will be saying to her husband, "Honey, let's try that place on Main Street. I can't think of the name but you know the one with the great outdoor space?"
Her partner will, of course, know the place because he's driven by. He'll also have seen the big-screen TVs on the patio, safely protected under a Gennius. You will also eliminate the chances of an eager diner ending up elsewhere because they couldn't find your establishment.
Your restaurant will be the place "you can't miss!" Increase your bottom line by attracting clients from the street who might not have ever heard of you otherwise.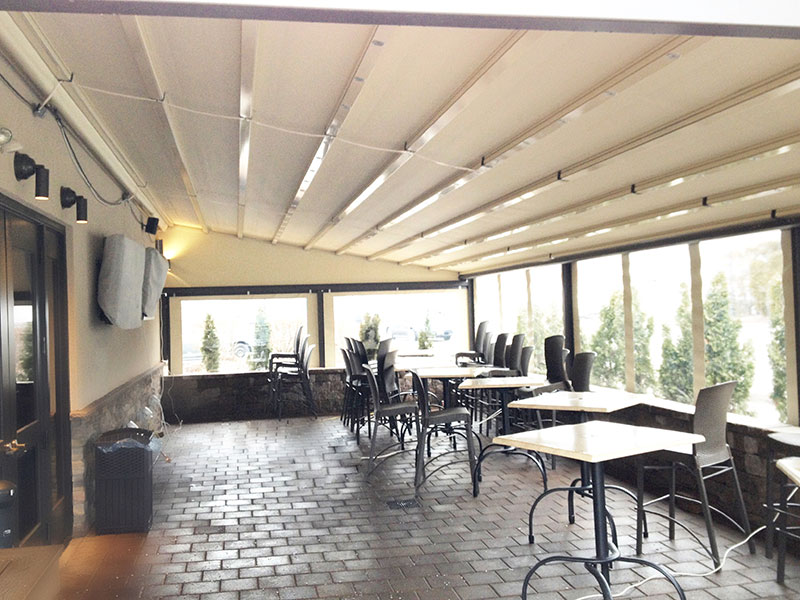 2. Extend Your Seating Area and Utilize It Year-Round
So you have a large outdoor seating area…but what happens when it's raining, too hot, too windy, or too cold? Clients are less inclined to sit out there, or even worse, you simply can't offer that seating and you are wasting precious tabletops. This is costing you money.
A Gennius eliminates all of these scenarios as it protects your clients from all-weather elements. You can completely open the awning and have all sides raised on a perfect day. You can quickly retract the overhead on a warm but too sunny day or in the instance of a quick rain shower.
You can project the overhead, have the sides rolled down and the heaters turned on in February and have a Super Bowl party! You can manipulate the tops and sides of this awning as needed, depending on the weather conditions. This will increase your bottom line by providing more tabletops year-round.
3. Host Private/Holiday Events
With a Gennius retractable awning over your patio, you can offer this space for private parties year-round without taking away from your main dining room. This space will not only give you the flexibility to do so but you can market this as a special, new, fun, trendy space that everyone will want to take pictures in.
Think of the social media frenzy when Mary and Joe have their engagement party under the twinkle lights projecting from your Gennius awning!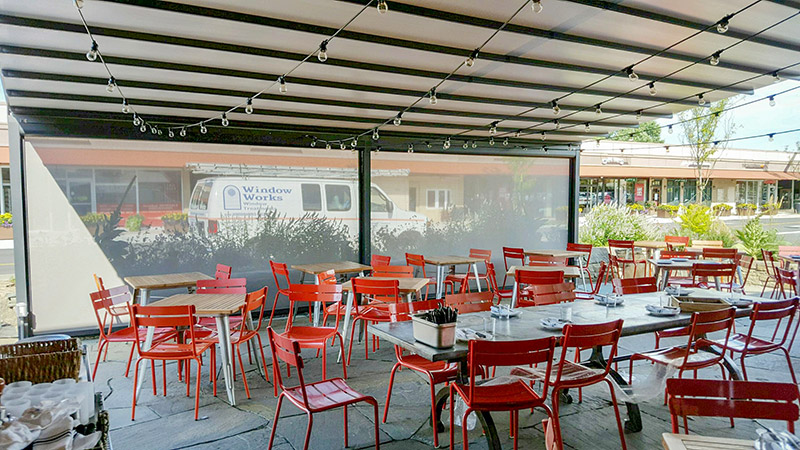 Or think about the opportunities to appeal to your guests for any holiday: "Dance the night away under the stars at our outdoor patio this New Year's Eve", which your guests will comfortably be able to do even if it's cold!
Add TVs to your patio and host viewing parties for sporting events, political debates, or the This Is Us premiere no matter the weather conditions! The possibilities are endless. All you need is a Gennius!
Increase your bottom line by securing more private events while leaving your dining room free for other clients. You can also market your restaurant as the hot spot for all of pop culture's greatest moments and holidays.
When your restaurant, bar or hotel has a Gennius, your venue immediately has an ambiance factor that most of your competitors won't have. Your clients will recognize you from the street, be intrigued if they've never tried it before and want to keep coming back when they experience what you have to offer.
Make more money by extending your dining room to include your patio YEAR-ROUND and give your clients a unique dining experience to keep them coming back again and again.
Most of our Gennius projects have an ROI of less than 12 months. If you're interested in learning more about the Gennius line of awnings and how having one can increase your restaurant's bottom line, contact us or call us today!