April 15, 2020
Find Your Perfect Awning Based on Your Quarantine Style
First and foremost, we hope that everyone is staying healthy and safe.
Our hearts go out to the families affected by COVID-19. We would also like to say a HUGE "thank you" to the healthcare workers, law enforcement workers, and food service industry team members for all that you've done and will continue to do during this difficult time.
If you're like us, you are quarantined at home doing some combination of working, baking, and in some cases, homeschooling and caring for young children.
And while the exact amount of time the quarantine will last is unknown, what we know for sure is that we are looking forward to the weather breaking, allowing us to take our quarantine outdoors.
You can be prepared for the perfect spring day—and the summer heat that will follow—with a new awning. We can discuss options over the phone, Facetime, Whatsapp, or on Zoom and measure for your project…never having to come in contact with you.
Yes, that's right, we are offering contact-free consults, measuring, and installing to keep you, your family and our employees safe! Give us a call at (973) 535-5860 to learn more.
For now, let's find out what your perfect awning style is…
Netflix & Chill
Are you more of a Tiger King, Queen Elizabeth, Marty Byrde, or a Jessica Batten? Does it matter?
You enjoy all of these shows and the quarantine is the perfect time to binge. Be prepared for the warmer days and nights and set up your patio as the ultimate outdoor movie theater.
Picture it: you've got your TV, comfortable chairs, maybe a nearby grill or bar area, and a view of your yard or pool. To really perfect the scene, you won't want any glare on that big screen and you may need protection from the elements from time to time (think light rain or wind), right?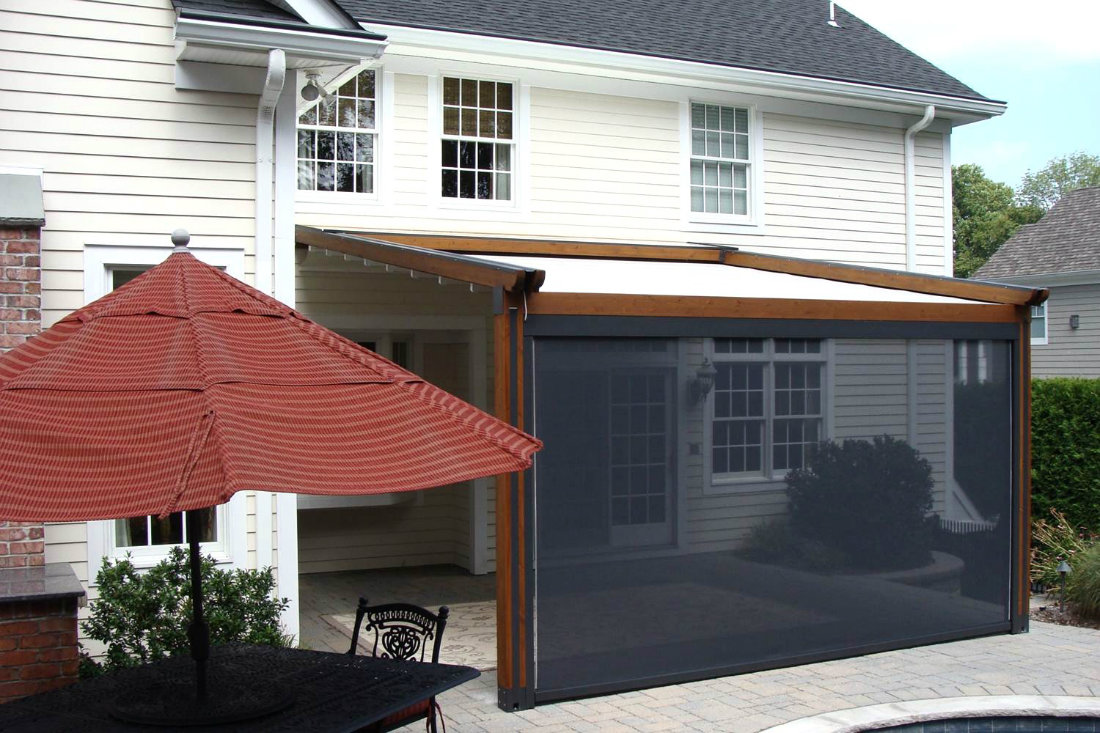 An outdoor shade is the answer to these problems! Outdoor shades enclose your porch or patio, protecting you and your TV from sun exposure, wind, and rain. They are easily operable with a click of a button for when you want a moment of vitamin D before returning to your binge!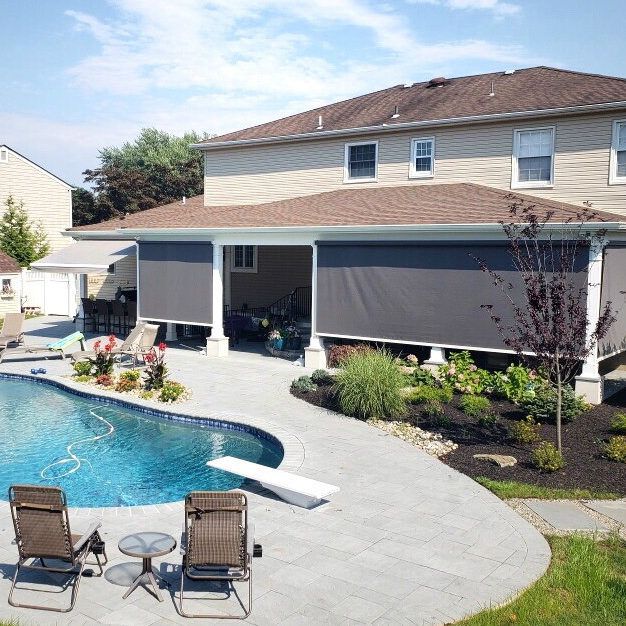 Work, Work, Work, Work, Work
Anyone else hearing Rihanna? Anyway, has your job actually found a way to give you MORE work during the quarantine? Take a break? Not a chance. You've got Zoom meetings, conference calls, and spreadsheets galore!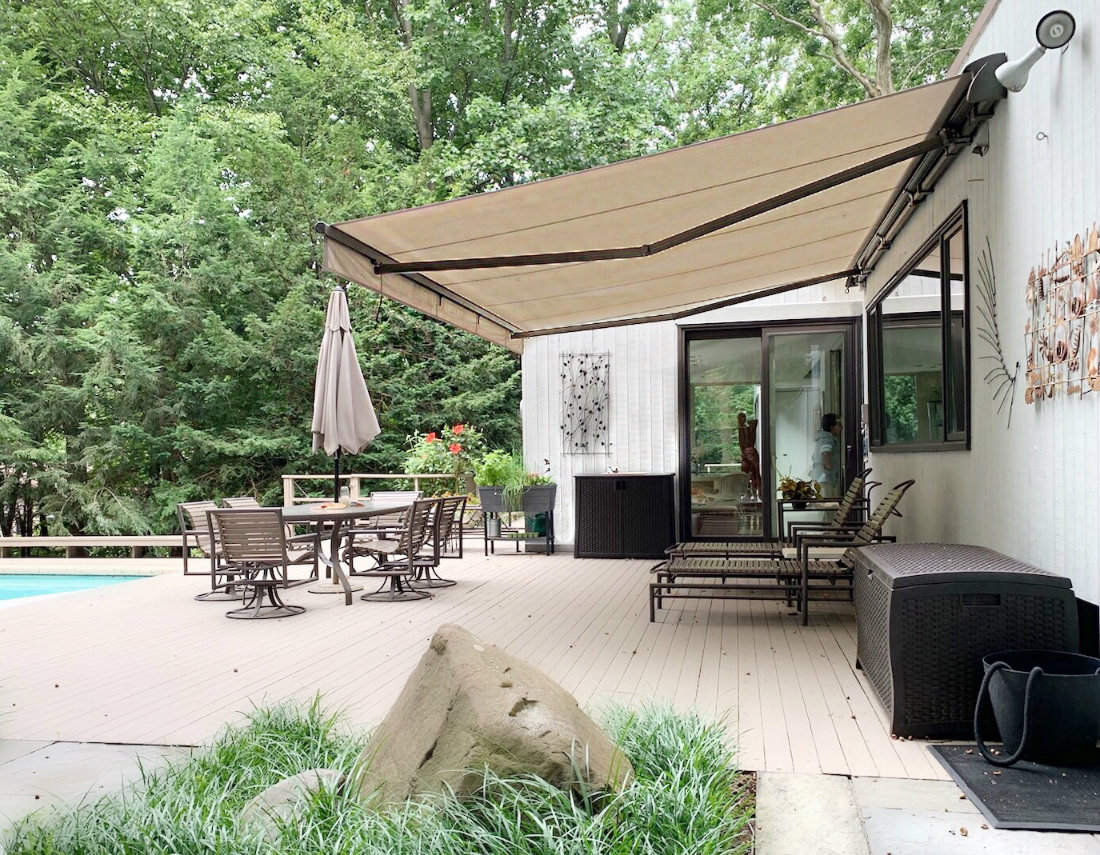 Imagine how much more enjoyable all of the above would be could you experience it from the comfort of your patio.
Eliminate squinting from the sun through your Zoom meetings, rushing your computer, phone, and paperwork inside should it start to drizzle, and worrying about bird droppings in your coffee with a retractable awning.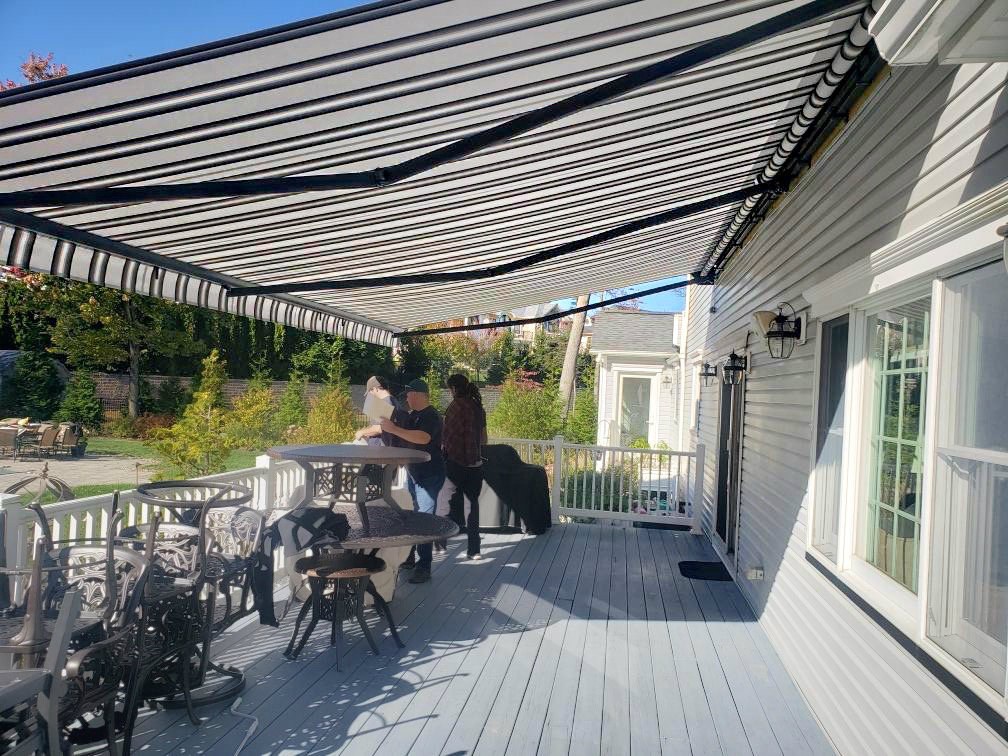 Our retractable awnings are operable with a click of a button to allow for quick and easy access to sun exposure or element protection at a moment's notice.
Appealing to the eye with our many pattern and color choices, spend your days working from home under your new, functional, and stylish retractable awning!
What's a Birus? Quarantined with Kids
At this point, you've completely lost track of what day it is and how long you've been stuck inside homeschooling and entertaining your kids.
It is no secret that fresh air does everyone good, especially young children. Getting outside changes the vibe, switches up the mojo, and gives everyone a break from close quarters and screen time.
However, the last thing you want is to worry about sunburn and dehydration or a sudden change in weather, right? Provide permanent shade and element protection on your deck or patio with a stationary awning!
Take the crafts outside, let them make a mess and simply hose it down, dine al fresco, take everything you would normally do inside to the outside and give you and your kids a much-needed break from the four walls of the playroom under your new stationary awning.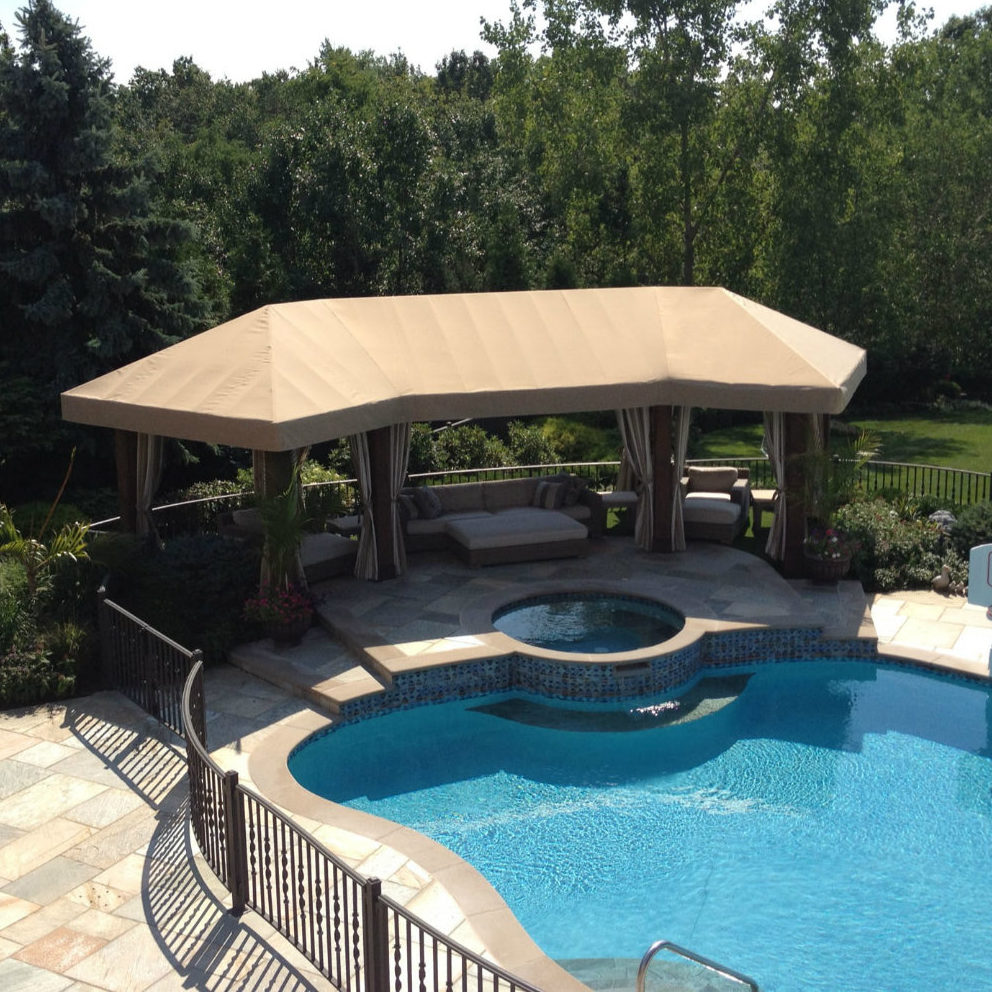 Self-Care Staycation for Your Sanity
Are you ready to lounge with a cocktail at 10 am? Or perhaps this is finally your chance to do all that meal-prepping you've said you're going to do for years!
Well, pour the mimosas and fire up the grill under your new retractable pergola awning! Don't let the weather stop you from self-caring outside this spring and summer.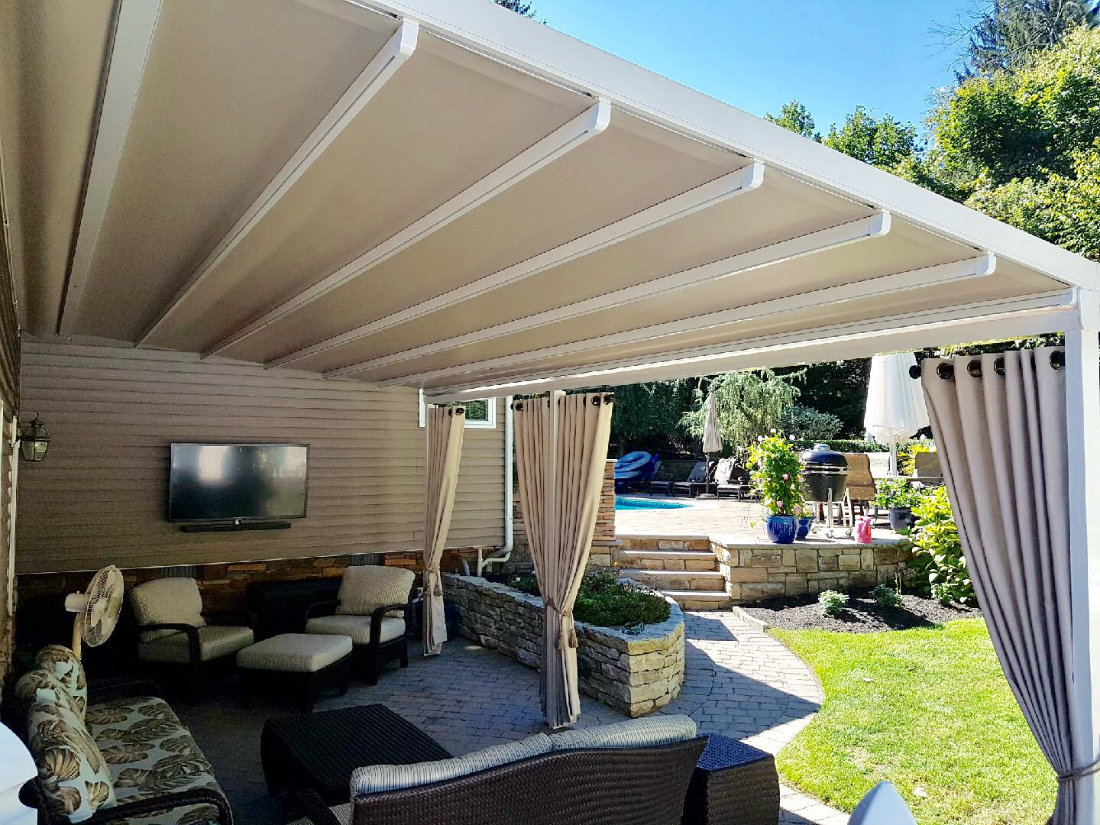 Under the protection of your new awning, create an outdoor gym with yoga mats and free weight stations. Think of your backyard as that fancy all-inclusive resort you won't get to travel to this year and really let your imagination run wild!
Utilize your outdoor space regardless of the weather and enjoy protection from the elements while still getting some fresh air! Create the ultimate photo backdrop for your new influencer account on Instagram highlighting your fit and fab lifestyle from home because well, what else do you have to do?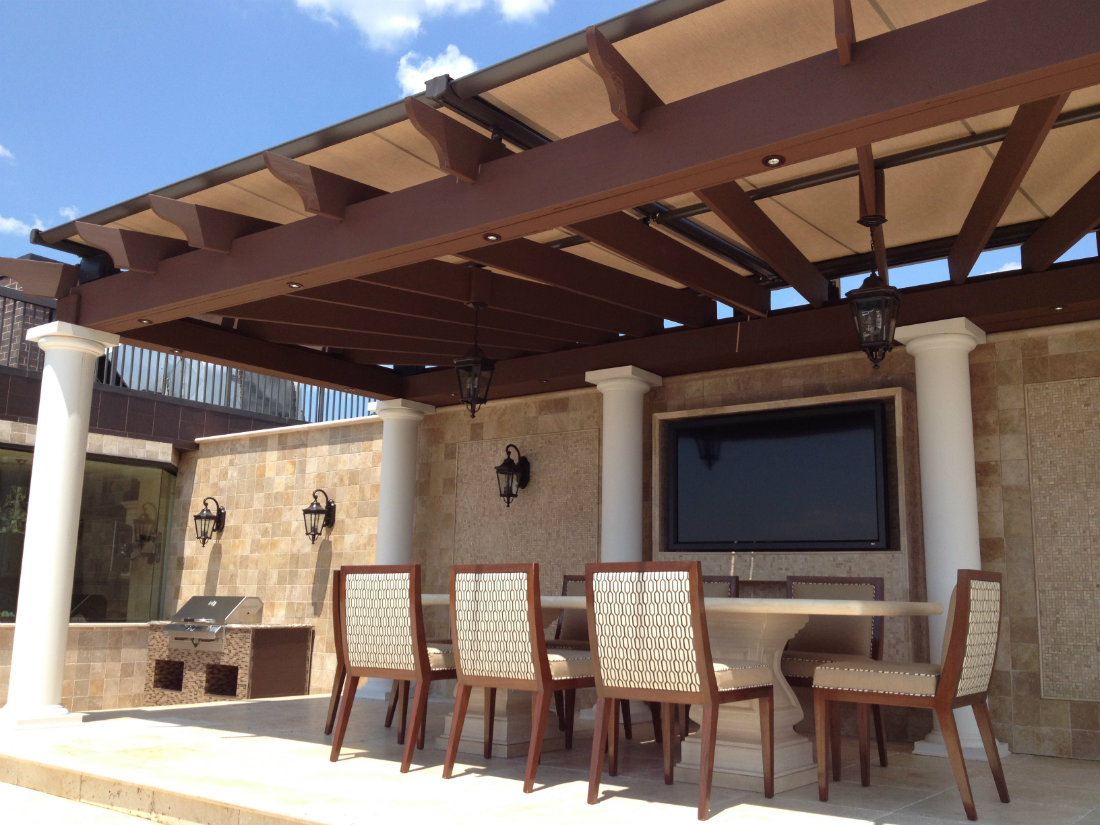 Stick around and browse our website to learn more about these options as well as the other awning options we provide!
If you have questions about the type of awning that would work best for you, call (973) 535-5860 or send us an email at awnings@windowworksnj.com.