March 26, 2015
What's your window treatment personality?
How Many Layers Do You Need On Your Window Treatment?

1 Layer
Call me Vamparella
All open or all closed is good for me. I only need complete darkness or full sunlight in my room. One layer of heavy drapes is good for me.
2 Layers
My name is Layered Linda
I like to make it dark like a cave, but I need diffused privacy in the daytime. I need two layers on my windows.
Some possible combinations are:
drapes + sheers
drapes + roller shades
drapes + sheer Romans
wood blinds + swag or cascade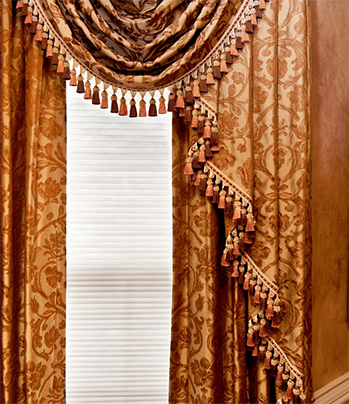 3 Layers
I am Goldilocks
I need it to be just right! I'd like full control of the light, as well as a decorative touch. I need privacy at night, privacy in the day, dark room in the morning, light filtering in the day. I need three layers to get all the flexibility I need in a window treatment.
Some possible combinations are:
drapes + roller shades + swag or cascade
sheers + wooden blinds + heavy drapes
drapes + Roman shades + sheers