August 16, 2023
Recent Install: Englewood, NJ Louvered Roof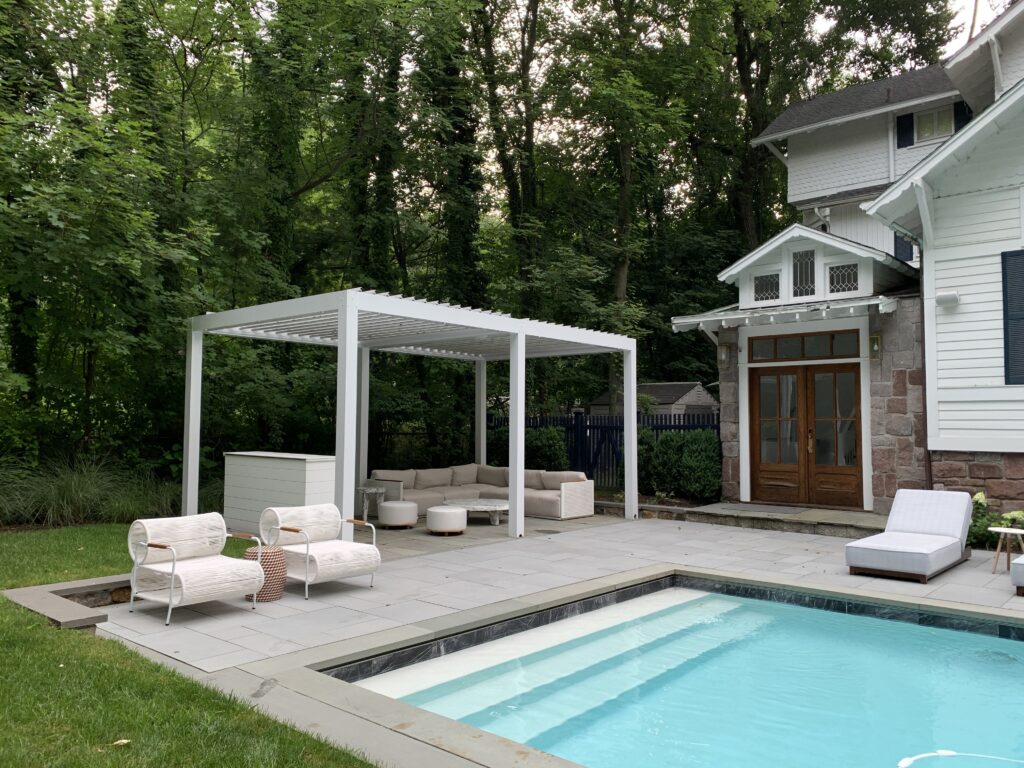 We helped our client create a backyard oasis in Englewood, NJ with a new louvered roof this summer! Known in Europe as "bio-climatic pergolas", louvered roofs have been gaining popularity in the US. Our clients in the northeast love louvered roofs because they are a great option for elevating the comfort and look of a backyard patio or deck. Demand has increased, and we have installed many louvered roofs this summer – this poolside installation in Englewood, NJ was one of the most recent!
What is a louvered roof?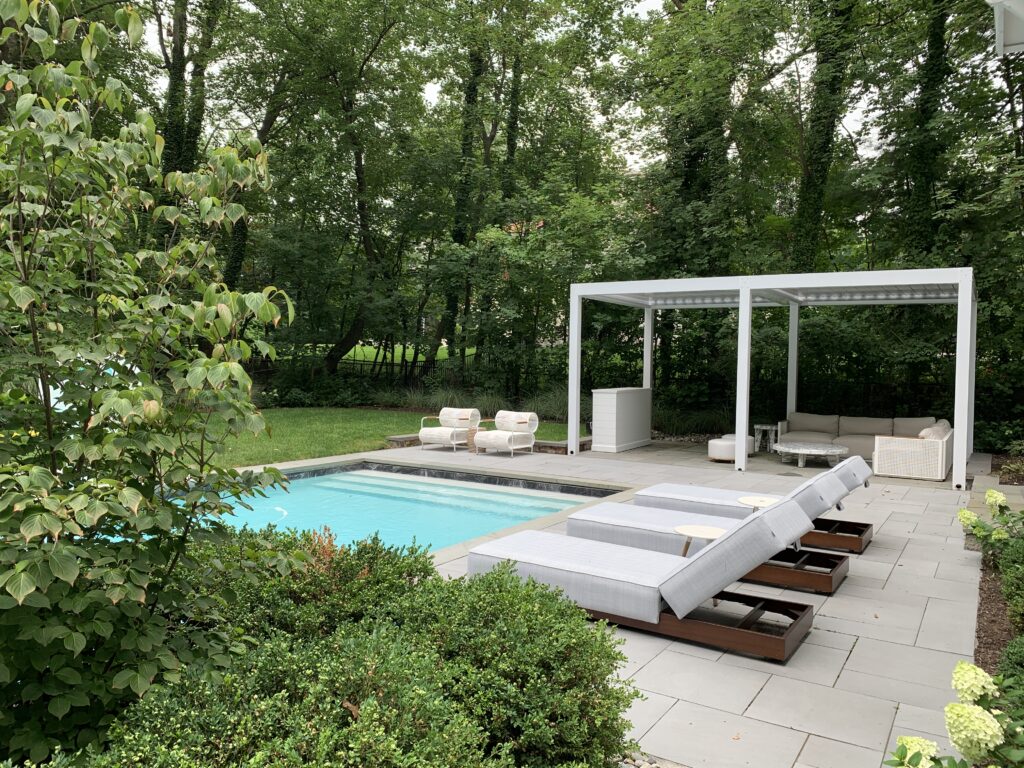 A louvered roof system is an incredibly useful way to simultaneously enjoy more outdoor living space while at the same time enjoying the protection of an adjustable patio cover.
Louvered roof systems are attractive, stylish, modern outdoor pergolas with rotating louvers that can spin a full 180 degrees. That means they can be a flat, protective roofing system one minute…and an open, airy patio cover the next, with just the push of a button.
Louvered roofs are perfect for any outdoor living area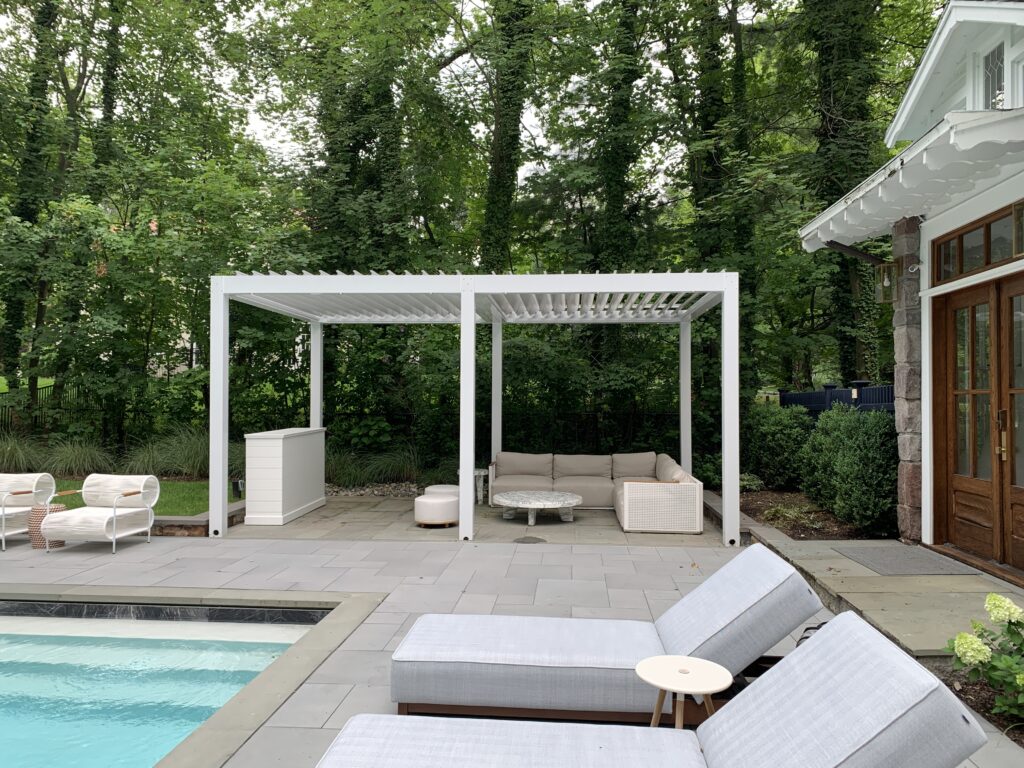 We only offer and install high-quality and name-brand louvered roof systems. They can protect and shade patios, pool areas, outdoor kitchens, garden spaces, backyard hot tubs, and anything else we can put a roof over.
Englewood, NJ louvered roof installation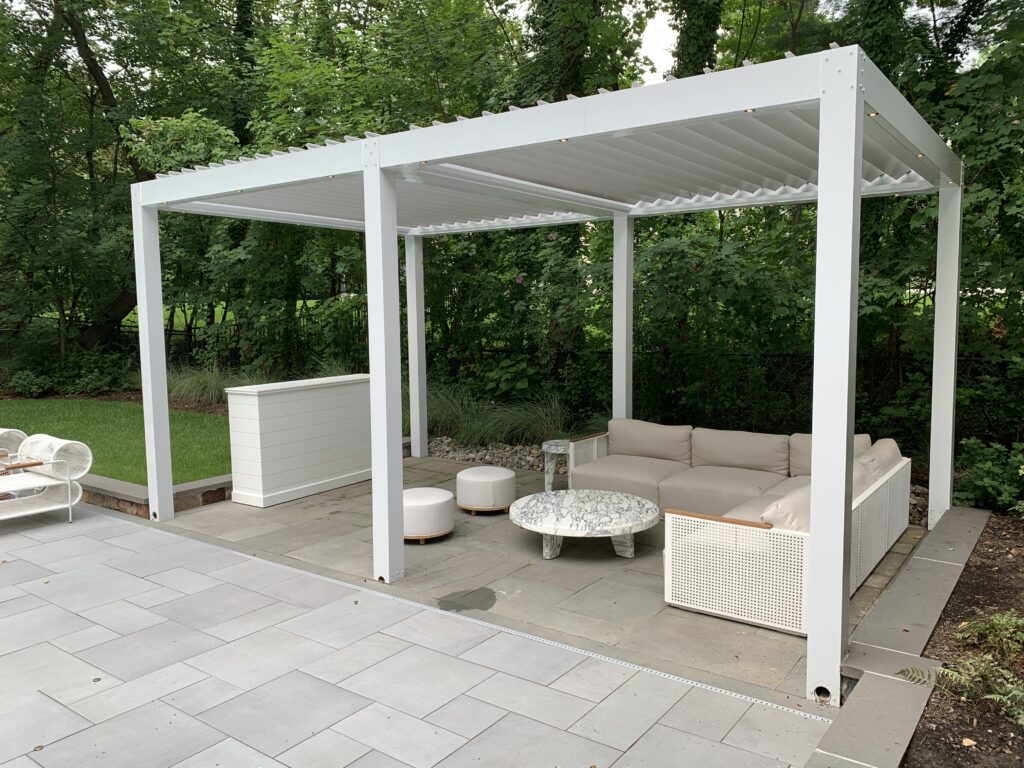 This Louvered Roof was designed with two independently operated bays which can be opened or closed together or separately.
This client chose to add LED lights along the perimeter of the louvered roof, and inside the ceiling fan beam to set the mood in the evening. They also decided to install a retractable TV cabinet, making this the perfect poolside cabana for relaxing or entertaining, rain or shine. There are tons of ways to customize your louvered roof system to suit your lifestyle and needs – including retractable patio screens and heaters.
Our team of experienced and knowledgeable awnings specialists can help you choose the perfect louvered roof system for your backyard, or any other shade solution. We only sell the very best quality shade products, so you'll have peace of mind that you'll love your outdoor living space for decades to come. Schedule your free consultation today and let's get started on your outdoor living upgrade!