January 12, 2017
Podcast Birthday Party!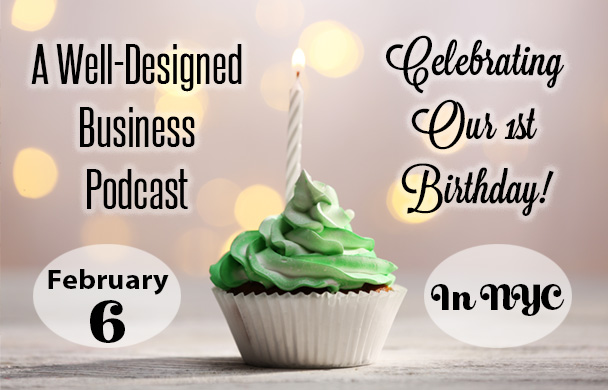 Hey Designers! Come Join Us!
Join host LuAnn Nigara and many of the year's terrific podcast guests for this special event celebrating 1 year of the popular podcast, A Well-Designed Business!
WHERE:
The Newel Gallery, 306 East 61st Street, 3rd FL New York, NY 10065
WHEN:
February 6, 2017, 5 – 7pm
Wine and cheese will be available. Come network, meet colleagues and have some fun! Event is free but you must register in advance (so we know how much wine to provide!).
IN ATTENDANCE:
Some of your favorite podcast guests are joining us for the festivities:
Amy Flurry – the queen of pitches and expert in all things press related
Barbara Vitieri – builder of the Designerlebrity brand
Malene B – designer of bespoke carpets, fine art wall coverings and artisan tiles
Kae Whitaker  – your personal branding and business development coach
Sandra Funk – leading designer and principal at House of Funk
Nicole Heymer – an interior design firms' specialist in branding, content strategy and web design
Corey Damen Jenkins – interior designer, furniture designer and gentleman
Other past guests joining us include:  Gail Davis, Ellen Fisher, Heather McManus, Jerri Eskow, Carrie Leskowitz, Kimberly Serafim, Vincent Nigara, and many more…
Event sponsored by Newel
Our great thanks to Jake Baer, CEO of Newel, for hosting all of us for this very special event!