October 3, 2017
Lunch & Learn: INTRO TO FENG SHUI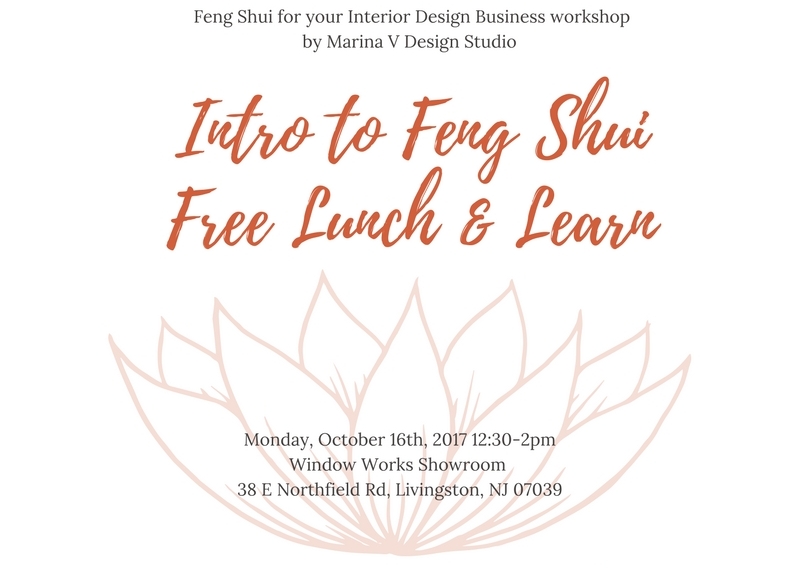 Monday, October 16, 2017 | 12:30 PM – 2:00 PM EDT
Window Works, 38 East Northfield Road, Livingston, NJ 07039
Marina V. Umali, principal of Marina V Design Studio and a Feng Shui Practitioner will introduce us to the concepts of Feng Shui. This event is open to interior designers who want to learn more to educate their clients as well as to area homeowners who want a bit more knowledge in decorating their own homes.
Learn how you can apply Feng Shui to your personal and professional life and the 5 easy steps you can take now to invite success into your life.
INSTRUCTOR : Marina is a NY State Certified Interior Designer and a LEED ID+C accredited Professional. She studied architecture at Parsons School of Design and Interior Design at the Fashion Institute of Technology. Prior to founding Marina V Design Studio, she worked as an Interior Designer for a number of prominent architecture firms in New York City. Marina is a Certified Feng Shui Practitioner and is about to begin her second term on the board of the International Feng Shui Guild.
WHEN & WHERE: Monday, October 16, 2017 | 12:30 PM – 2:00 PM EDT | Window Works, 38 East Northfield Road, Livingston, NJ 07039
Click Below to Register for this Event.