October 30, 2018
How to Choose a Deck Canopy
(and Why You Need One)
The main purpose of a deck canopy is to provide freestanding sun and element protection.
We are able to cover an area with a retractable or stationary canopy that would otherwise be subject to open air. When you think of a deck canopy, you might think of the freestanding, tent-like structures with poles that you can buy at a home goods store or online.
However, what you might not know is that we can provide gorgeous, sturdy, fully customizable deck canopies with useful options like motorization. You can make full use of your space and also have a beautiful addition to the landscape outside your home or business.
Let's take you through a few customizable options for your deck canopy needs: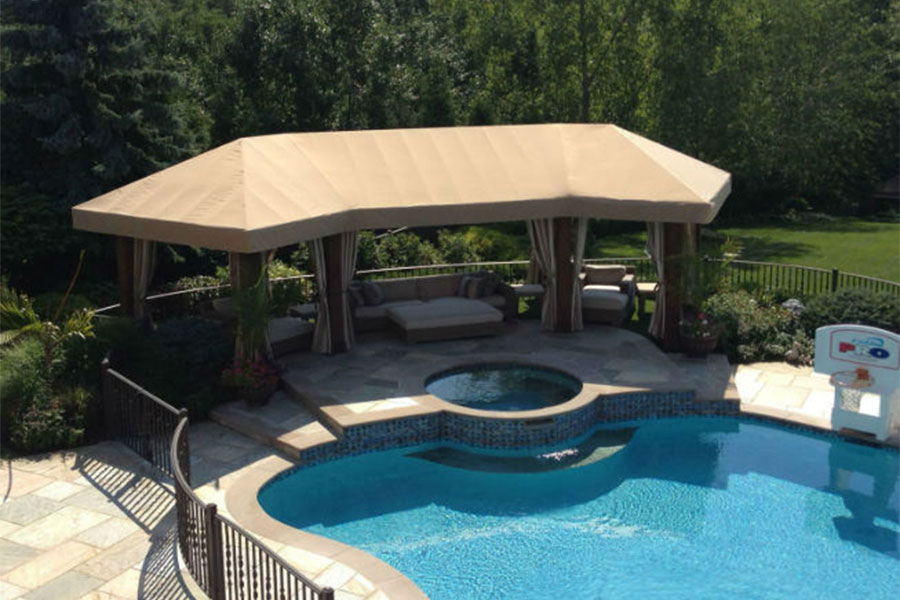 THE CUSTOM CABANA
Picture the most luxurious hotel pool, complete with coordinating umbrellas, lounge chairs…and what else? Cabanas! Yes, you can create the chic look of a high-end resort right in your backyard.
With a custom cabana, our motto is, "If it can be measured, it can be built!" So you can forget about settling for a flimsy store-bought cabana that gets pushed over by the wind or damaged by the rain.
Our custom cabanas can take on all shapes and sizes to perfectly cover the areas of your yard that a retractable awning could not reach. If you have an outdoor kitchen or grill that needs coverage, a custom freestanding cabana could do the trick.
This product will also make your yard look and feel sleek and modern. You can choose a neutral fabric to go with everything or coordinate colors with your business for the ultimate branded look. We can even add graphics to the fabric for branding a business.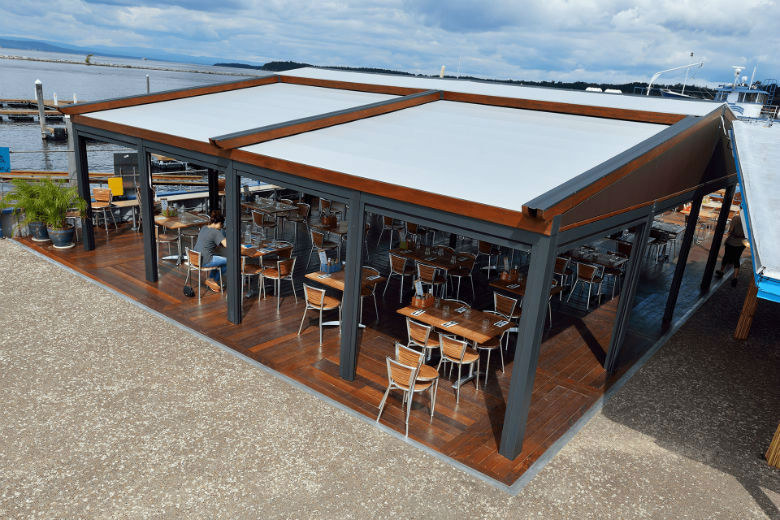 THE GENNIUS AWNING
First of all, what is a Gennius, right? The Gennius is a heavy-duty, waterproof, retractable pergola awning. The Gennius can be customized in a variety of ways but the two primary options for deck canopies are freestanding and motorized.
As a freestanding deck canopy, the Gennius can be customized as either flat with fabric that projects and retracts one way on a shed-style slope (A) or it can project and retract two ways in an "A-frame" configuration (B). We can even install electric awnings if you already have an existing structure or pergola.

This deck canopy option has the ability to protect up to 2,000 square feet of dining or entertainment space! You can also add optional drop shades to create a freestanding retractable enclosure.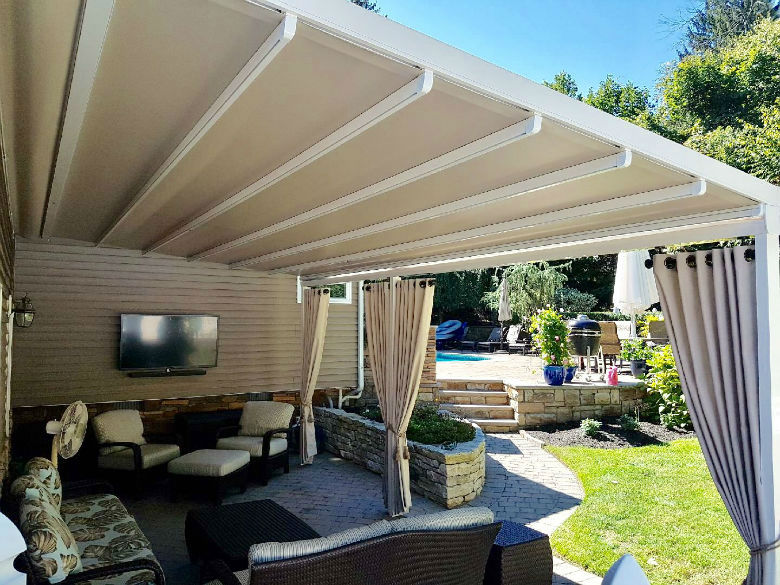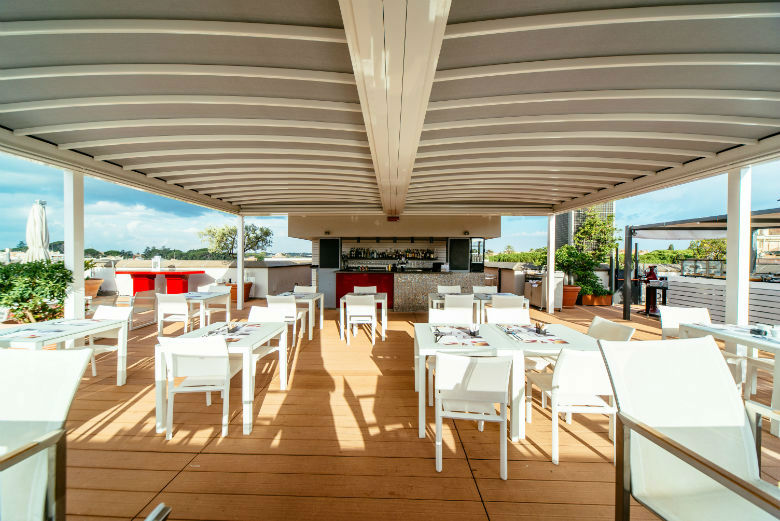 As a motorized option, the Isola Gennius deck canopy, is capable of projecting almost 30 feet out. The style is a bit different from the freestanding option as it is arched and creates a softer look. With the Isola Gennius you will also have the option to have integrated dimmable lighting!
The Gennius family of deck canopies were developed to customize your outdoor space with the highest level of functionality, efficiency, and to top it off, they are extremely good-looking!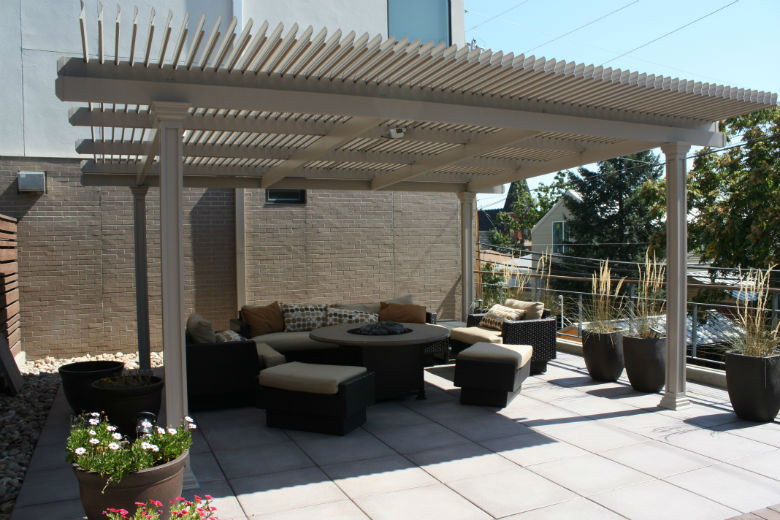 LOUVERED ROOFS
The louvered roof is a third option for a custom deck canopy. Of course, you might be thinking of a typical louvered roof with simple wooden beams. But this option can be customized in a variety of ways.
First, the louvers on our systems can be rotated! Yup, that's right, you can determine on a given day just how much sun exposure you want by rotating the louvers. Second, the shape of the roof can be customized from a simple square or rectangular shape to circular, triangular, or cut out as you need it.
Third, the roof can be freestanding or semi-attached to your structure. And finally, the louvered roof can accommodate ceiling fans, lighting and misting systems!
---
Deck canopy options are versatile and can be customized to address the sun and element protection needs of your home or business.
They will also aesthetically enhance your space and provide new levels of functionality and luxury. Taking it one step further, we can add infrared heaters to lengthen your outdoor season.
You will not find these custom options in a typical retail store, but you will find them with us at Window Works. Our awning specialists are ready to work through your specific deck canopy needs to find you to perfect solution. Call us at 973-535-5860 today to schedule your free consultation!